Emancipation Oratorio at Chautauqua Institute 10:45AM
Price: Free
Date: Sun, Jul 07, 2013
Time: 10:45 am - 12:00 pm
Venue: 10:45am Worship Service includes excerpts, 8pm will feature full Oratorio
Location: Chautauqua Institute Amphitheater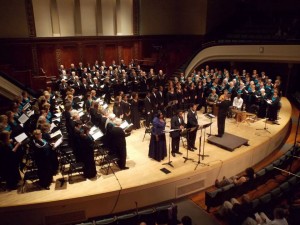 Emancipation Oratorio at Chautauqua Institute
The abolition of slavery by act of Congress 150 years ago is supremely worthy of celebration and commemoration. No region more than Western New York, and no city more than Rochester, claims connection to the personalities, the ideas and the energy that made Emancipation real for millions. Join the Rochester Oratorio Society directed by Eric Townell at Chautauqua Institute for a Sunday evening worship service that will include the music of The Emancipation Oratorio by Glenn McClure.  The Emancipation Oratorio, commissioned by the Rochester Oratorio Society as a way to re-write the slave -trade story, transforming a system of oppression into a world of opportunity, creativity and hope. Folk music, texts and instruments from the U.K., from Ghana and from our own region inform McClure's original music.
Admission fee to Chautauqua Institute is waived on Sundays.
10:45am Worship service- includes excerpt from The Emancipation Oratorio.  8pm full Oratorio performed.
Rochester Oratorio Society        Eric Townell, Artistic Director
Chautauqua Institute Sacred Music